The 2021 edition of the Sustainable Places conference was held as a hybrid (digital + in person) event from 28th September to 1stOctober. With the in person portion of the event taking place in Rome, the digital portion was carried out through the Hopin platform, allowing attendees to interact in various session online rooms and a shared lobby. As per its tradition, the event focussed on designing, building and retrofitting the places we live and work in a more sustainable way.
True to this focus, the event opened with a virtual only afternoon on the 28th September, which included parallel sessions on energy communities, energy efficient manufacturing, and building renovation.  In particular, this included the first paper session, entitled "Renovation Cases and Tools". During this session, ten speakers presented a variety of research results (delivered and in progress) that are directly relevant for the BIM4Ren objectives.

Giulia Barbano, Senior Project Manager at Integrated Environmental Solutions Ltd, presented a slice of the BIM4Ren stack of tools for data driven renovation design, to offer a general introduction to the consortium efforts on solutions for renovation scenarios evaluation, focussed analyses and occupant feedback.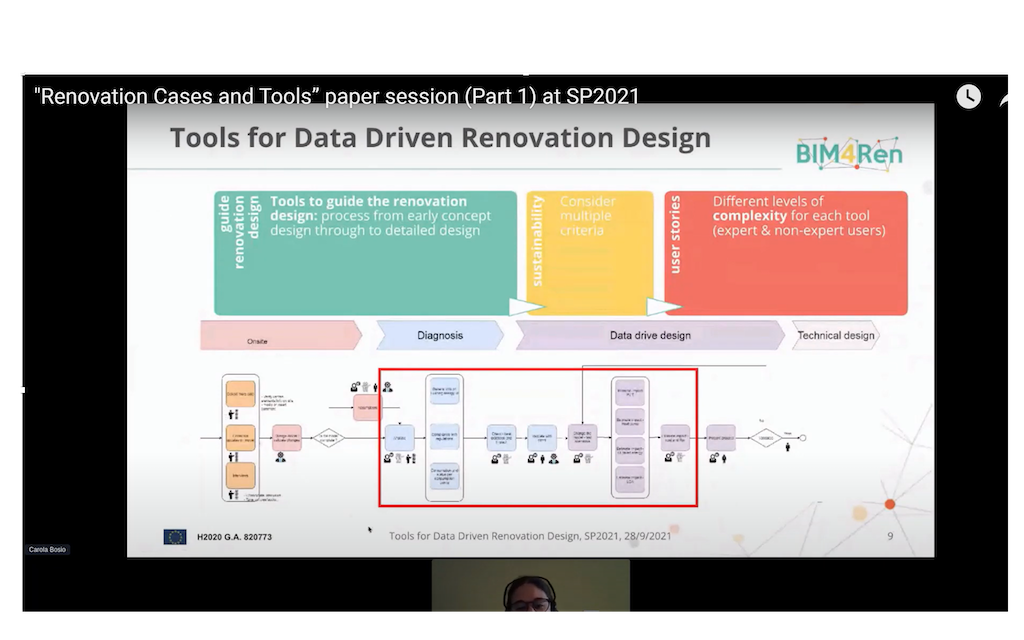 The presentation included elevator pitches for a handful of BIM4Ren tools, which have also been presented through dedicated demo videos uploaded to the project Youtube channel.
The presentations delivered during the session, all available on the conference website, covered a variety of topics that are adjacent or directly related to the BIM4Ren activities, including for example industrialised renovation solutions, public projects decision making, energy performance assessment methods and long term monitoring. In particular, a presentation on the Renovation 4.0 toolkit by sister project BIMERR focussed on BIM-based holistic tools for Energy-driven Renovation of existing Residences. The full recording of the session is available on the Sustainable Places Youtube channel.