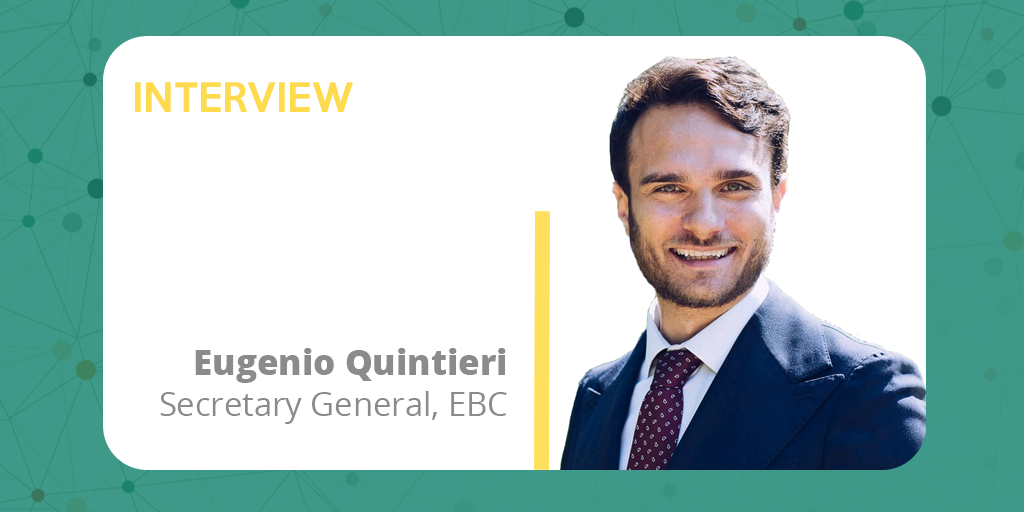 IN A FEW WORDS, WHO ARE YOU AND WHAT ARE YOUR PROFESSIONAL PURSUITS?
I am the Secretary General of the European Builders Confederation, the professional organisation exclusively representing national associations of construction SMEs and crafts in Europe.
I see my work as an intergenerational duty to improve the world we live in. I have a true passion for politics affecting the built environment, as I believe our sector has an unexploited potential to make our world more sustainable; indeed, everyone agrees that our sector can:
Contribute to the European and global sustainability goals through the decarbonisation of the building stock
Offer high quality jobs to many young people and women unemployed or looking for a new professional challenge
Increase the traceability of materials for future re-use and recycling through more digitalisation, in order to contribute to a more circular economy and society
Ensure a better quality of living for people by increasing comfort and energy efficiency, improving air quality and the overall indoor environment, enabling affordable and accessible housing, easing mobility and connectivity
Improve competitiveness, mobility across Europe and the safety of EU citizens through the maintenance and construction of infrastructures and buildings
That's why I'm proud of the recently launched "Construction 2050 Alliance", an unprecedented initiative bringing together the main organisations in the construction value chain, with the aim of speaking with a single voice and crucially contribute to the EU political debates.
What is your take on BIM in renovation of residential buildings?
Digital solutions in construction have great potential to increase productivity, reduce construction costs, alleviate burdensome and physical tasks, improve the data collection and analysis of energy efficiency performances, and lower life-cycle costs of buildings. However, digital tools, such as BIM-related applications, will only be adopted among the whole value chain if they are affordable, easy to access and constitute a real added value to construction SMEs and crafts. Only an inclusive digital transformation will ensure the strengthening of the sector as a whole. In order to do so, we need to achieve the main objectives of the European Construction Industry Manifesto for Digitalisation: a strong cooperation of all actors within the construction value chain, paired with supportive European and national regulatory and financial framework.
What is your perception of BIM4REN?
Given their limited size and lack of expertise, SMEs need special support and guidance when it comes to digitalisation. For this reason, we are happy to participate to the EU-co funded project BIM4REN which brings together the IT and construction professional worlds to develop easy-to-use digital tools for our construction SMEs and craftsmen. BIM4REN constitutes a unique platform in which talented IT professionals can understand the needs of our companies on the ground and address them through their technical knowledge in the upcoming digital tools. However, the feedback approach is a continuous exercise. For this reason, we will organise and channel a specific testing activity targeting volunteer SMEs from our national affiliates, in 12 EU countries (France, Belgium, Spain, Italy, Netherlands, Hungary, Luxembourg, Croatia, Poland, Romania, Slovenia and Slovakia). This activity will be backed up by "train the trainers" activities and workshops in order to have, for each local context and language, a trainer who is familiar with the BIM4REN project tools. This genuine inclusive approach towards medium and small construction entrepreneurs is a real added-value in this initiative.
How does the future of construction look like according to you?
As we have stated in our joint paper "Construction 2050: Building tomorrow's Europe today", in EBC we steer for a high quality, low impact and highly resource efficient built environment for all citizens. It will be reached through a fully decarbonised and circular approach that will contribute to reach EU sustainability targets. We believe that, if equipped with the appropriate instruments, our sector will foster a sustainable society by facilitating the adoption of more sustainable lifestyles and economic models. These will increase quality of life, cultural diversity, respect for heritage, individual and collective well-being, social justice and cohesion, and economic efficiency; in short, a new and better society in which I can easily imagine myself as a European citizen.