A web-based IFC generation tool tailored for energy analysis purposes: learn more about the Parametric IFC Generator by Tecnalia.
In a sector that is constantly progressing in terms of digital processes and high environmental and energy ambitions, the European BIM4Ren project is an initiative that aims to facilitate and accelerate energy renovation projects via easy-to-use digital tools. Within this framework, the leading private Technology Centre in Spain Tecnalia, one of the Spanish partners of the project, has recently developed a tool that goes in this direction and that will be tested on one of the pilot buildings of the project located in Spain.
The Parametric IFC Generator is a web-based, easy-to-use tool to create architectural and spatial Industry Foundation Classes (IFC) models tailored for simulation purposes. IFC is the open BIM format which is supported by most BIM modelling tools. It can create a variety of different shapes, properly oriented and geolocalised.
The main potential of this tool is to allow non-expert users to easily have a preliminary digital model of a building to be renovated with no need of on-site visits and without incurring in scanning and modelling costs. This can be potentially useful in very early decision stages, where there is no need of a detailed model for initial "what-if" scenarios. However, since the output is an optimized IFC model it could be exported to other tools for additional detailing.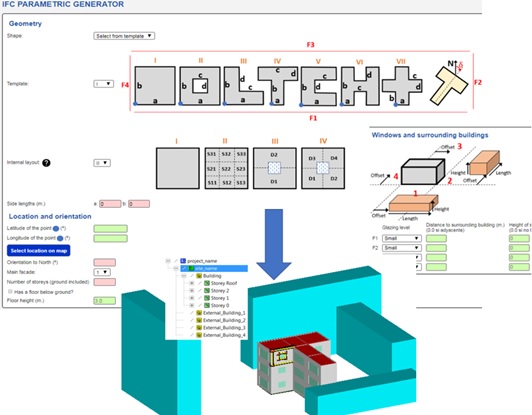 Two main modes are allowed. The first one is an isolated or stand-alone mode, where the user geolocalises the building using a map viewer, while surrounding buildings are created specifying distances and heights (including adjoining buildings). The user can also specify the different glazing ratios per side/orientation and the internal layout, which can be a single space or different partition schemes. Additionally, space uses and building element thicknesses can also be specified.
The figure above shows part of the inputs requested to the end user in the web form (top) and the output IFC (bottom). The surroundings are defined as conceptual blocks.
A second mode is to create an IFC integrated with a Geographic Information System (GIS) model: a district-scale multi-building IFC is automatically created by importing a shapefile with building height information and the user can select which building will be replaced by the one created in parametric mode. In this case, the user does not need to define the shape, external buildings or geolocation data, since all this information is imported from the GIS model.
The following figure shows the output of the tool in this second mode, with an application in the BIM4Ren pilot building in San Sebastian (Spain). In the left a general overview and in the right, a zoom on the target building. As we can see, the building envelope is not regular and symmetric, because it has been automatically adjusted to the real GIS footprint.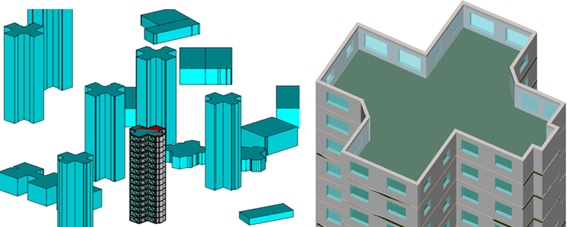 The developed algorithm automatically creates the topological information required by different analysis tools, like 2nd level space boundaries, connectivity between walls, and additional IFC relationships. Quantity take-off calculations are also carried out (volumes, areas, perimeters, etc.), which are stored in IFC property sets (BaseQuantities).
The next steps will be devoted to validating the output IFC's in two directions: first, a benchmark will be done to compare the different IFC creation tools in BIM4REN in relation to time, accuracy, adequacy to tools' requirements, etc. Secondly, a decision support tool for early stages is being developed, which will run energy simulations for the existing situation and different renovation scenarios using the generated IFC as input. These two activities will provide valuable feedback for the improvement of the developed algorithms.
Watch how this tool can be integrated into an Existing 3DGIS in the following video:
And see a stand-alone example use in this video:
EARN MORE ABOUT THE TOOL IN THESE TWO VIDEOS!
Watch it in action in two different use cases: stand-alone use and integrated into an existing 3D GIS model.