In a context where digital and remote exchanges are becoming increasingly important, the European BIM4Ren project has launched a series of webinars on the topic of BIM in energy renovation works. This post is a continuation of this effort and is part of a series to make easily available the discussions, knowledge, and tools produced during these webinars if you couldn't join us live!

You can watch past webinars here.
Continuing its series of webinars dedicated to BIM innovations for energy renovation projects, BIM4Ren dedicated its fourth edition, which was held on 20 May to 'BIM bots'. The Dutch research centre TNO introduced and moderated this event dedicated to the presentation of tools and methods developed in the context of the BIM4Ren project in order to help enrich BIM geometric models, as well as to show how to optimise the use of BIM bots in energy renovation projects.
First Michel Böhms of TNO (NL) introduced the context and scope ("Data Management") of this webinar. He explained the basic data principles and introduced the notion of BIM bot. In a nutshell, a BIM bot is an intelligent online system that autonomously performs actions based on BIM data, such as calculations, simulations, or analyses; thus a BIM bot may take over a specific task in order to best support the user during the construction or renovation process. Deploying a BIM bot ecosystem leads to a BIM-dedicated microservice environment.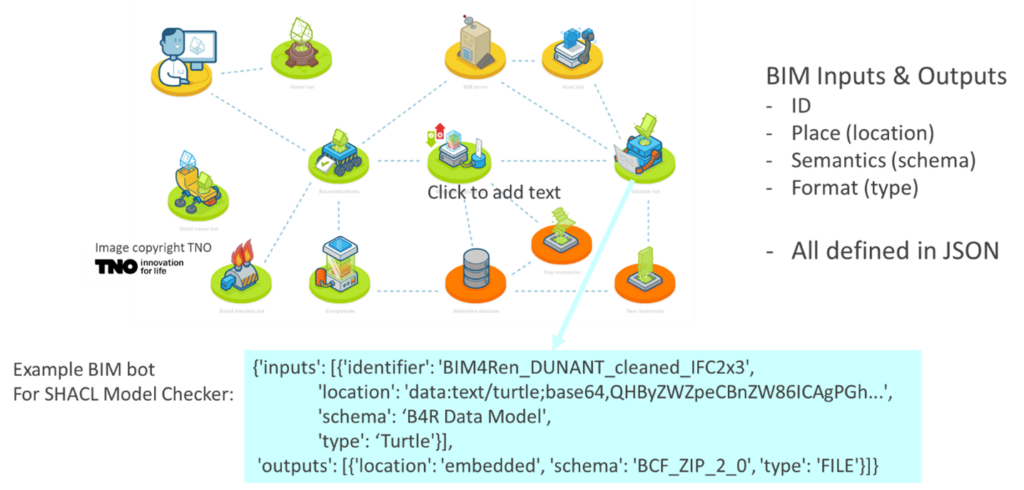 Enrich IFC models with LOD Lifter
Next, Bruno Fies of the French Research centre CSTB demonstrated the LOD Lifter, a 3D software application that can enrich IFC models with properties relevant for energy renovation, involving product catalogues. It does so by first translating the IFC data to the Linked Data domain where it is easier to extend and link to other resources. The enrichment process is achieved with the help of BIM object catalogue: a user can select the objects that are present on-site, enriching the BIM model accordingly to the physical counterpart.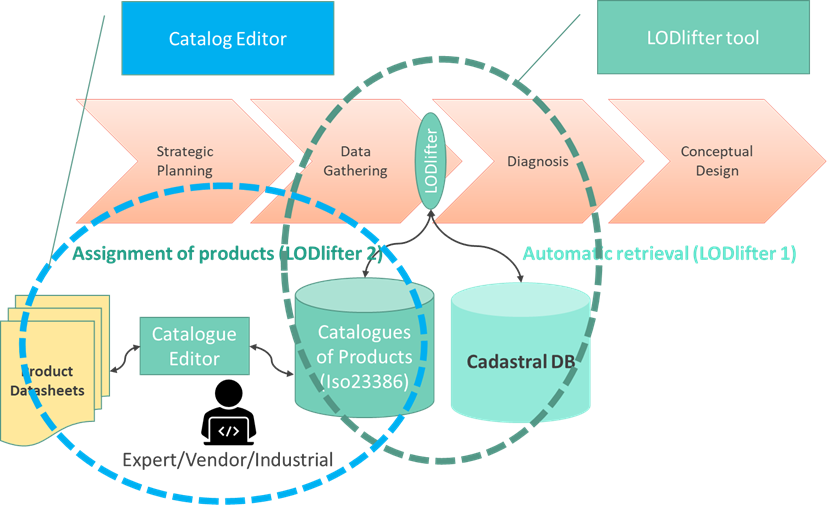 BIM bots and micro services
In an attempt to follow a realistic workflow, the webinar then addressed the issue of data validation. Now that we have an enriched model, it needs to be validated, to ensure it fits its purpose, with a focus on the microservices delivered by BIM bots.
Madhumitha Senthilvel of the RWTH Aachen University showed why there is a need to validate the data collected, different validation approaches, and especially the SHACL-way in the Linked Data domain. She demonstrated how the SHACL-based software tool operates by providing visual editing and checking tools to ensure the quality of the data.

Afterward, her colleague from the RWTH Aachen University, Jyrki Oraskari showed how the enriched data can be brought back to the original IFC model (in STEP technology) thanks to the application of corresponding Globally Unique Identifiers (GUIDs).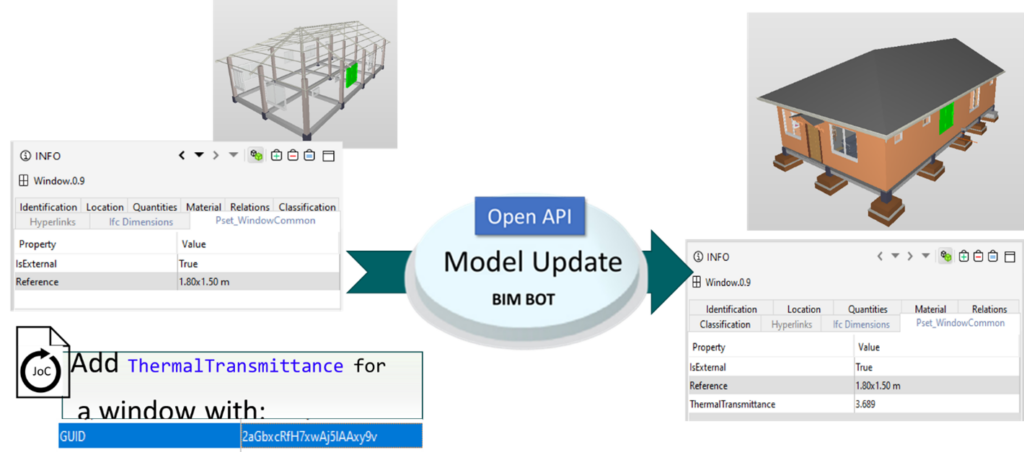 Next Joost Adriaanse and Shang-Jen Wang of TNO showed how different BIM bot functionalities can be glued and form work flows that could be orchestrated by a special BIM bot, the Maestro Bot. The Maestro Bot functions as a kind of hub via which all BIM related data flows are coordinated. These flows can have any location, format or structure as defined by the BIM bot service interface. The Maestro Bot thus operates as an automatic routing service that checks BIM bots capabilities and invokes the right BIM bot according to the need.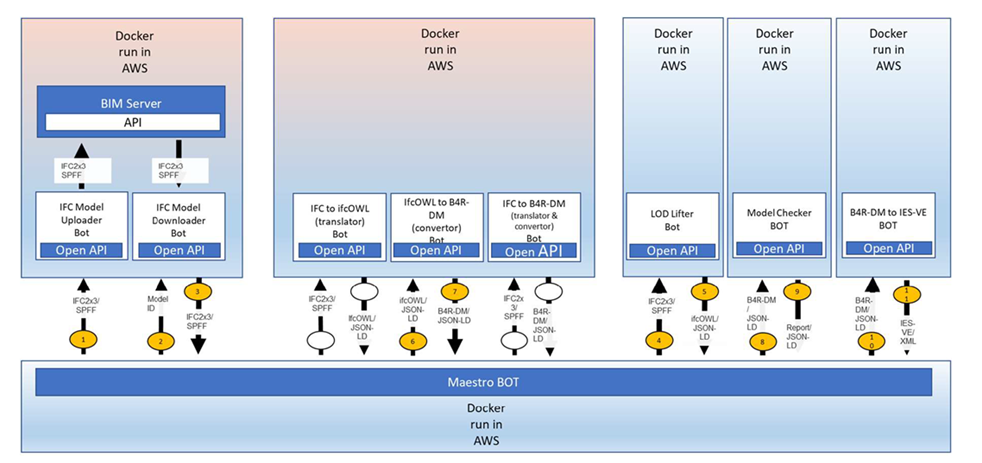 Rich BIM ecosystems & BIM bots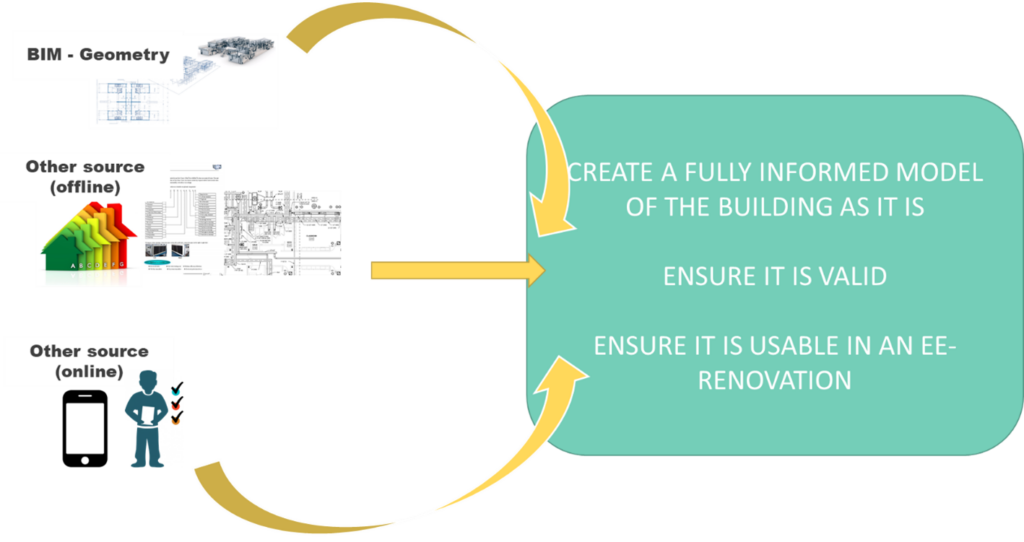 Finally, Pierre Bourreau of Nobatek/INEF4 (FR) put all things into perspective using the idea of a data ecosystem. This ecosystem is utilizing the flexible and extensible Linked data approach, supporting all forms of enrichments for many purposes through catalogues and manual interventions enabling, in the end, more efficient but also more effective building renovations.
Therefore, the use of BIM bots results in fewer construction errors, while buildings are better designed and constructed. In the context of our project, the contribution to the analysis of the energy efficiency of a design is of major interest. If construction professionals can perform automated energy simulations using a BIM bot at the initial design stage, little or no adjustments will be required in subsequent designs. As well as providing information on building performance, BIM bots can alert to design errors, which not only saves time but also saves money and increases efficiency for builders. These automation tools have the potential to benefit the entire sector through improved information transfer and the early application of relevant and accurate knowledge.
The series of webinars gave us the opportunity to deal with the creation of BIM models from existing buildings. In the next episodes, we will discover how such models can be used in an energy-efficient renovation context.
If you find this summary interesting, you can now see the full recording of the webinar below!
---