Digital transformation in the built environment is a reality that will shape the construction sector, increasing its efficiency and improving its quality. However, there are many challenges still facing the industry to complete this transformation. This means a huge gap between theoretical digital opportunities and the realities of on-site construction.
In a European context of ambitious targets in the field of energy efficiency, digitalization is key to support the energy-efficient renovation of buildings since it could contribute to improve or increase collaboration, cost efficiency, and time savings. At the same time, it could guarantee process quality along with all the renovation phases. Particularly, the use of Building Information Modelling (BIM) could allow to store and share valuable information about the existing building, as well as to prevent uncertainties since the models would be fed and checked by the whole construction value-chain.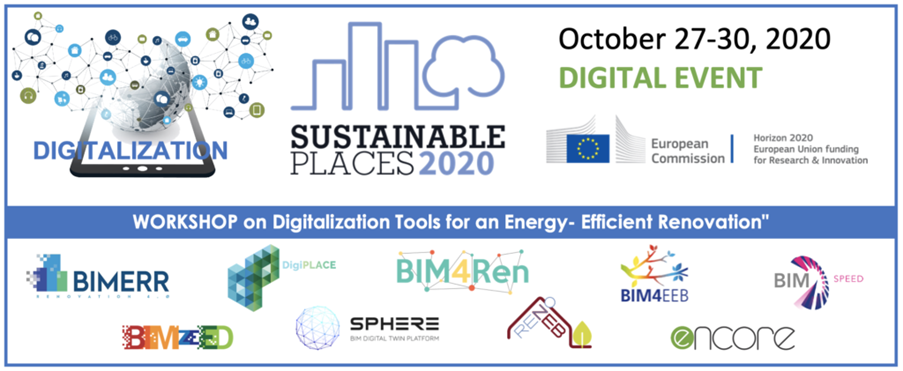 Last October, in the context of the 2020 edition of the Sustainable Places event, BIM4Ren took the lead to organize a workshop in collaboration with other Horizon 2020 projects dedicated to research in the field of digital construction and buildings renovation. In addition to BIM4Ren, the participating projects were: SPHERE, BIM4EEB, BIM-SPEED, DIGIPLACE, BIMERR, BIMzeED, ENCORE and RenoZEB. Also, the DG Research & Innovation from the European Commission attended to monitor potential fruitful collaborations between the projects it finances.
Under the title "Digitalization tools for an energy efficient renovation", this selection of EU-funded projects gathered to discuss a common strategy to share findings on research for construction, moreover, to discuss the major technical and non- technical challenges faced, especially when dealing with the existing building stock and a segmented construction sector. The workshop was divided into two sections; in the first section, each project pitched their progress and intermediate achievements. In the second section, a selection of innovative tools was presented and demonstrated in a real application. To conclude, the projects representatives agreed that strengthening the synergy among their different but complementary projects would be a benefit for all. A post-workshop report is available on the MDPI website or you can download here from our website.
BIM4Ren looks forward to further collaborating with sister projects, both on technical issues and research content, as well as joint advocacy and communication. Stay tune for more in the third year of our project! And in the meantime, you can watch the recording below: