The last demonstration activity of the BIM4REN Italian pilot was scheduled for September 2022. The teams from CMB Carpi and R2M Solution got together in the Gran Reno shopping mall, Bologna, to test the functionalities of RIALTO and discuss about its use and future potential.
Developed by R2M Solutions, Rialto is an Augmented Reality tool for defect management reporting on-site, during inspections and post-construction maintenance. It provides great features such as, the automatic location and automatic displaying information over objects, overlaying and voice entry capabilities, and synchronisation with Construction Management Software.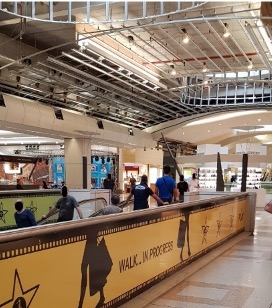 CMB Carpi is the general contractor of the deep renovation project executed in the 100000 m2 Gran Reno shopping mall, Bologna. This large-scale project had several goals, such as a restyling and redesign of layouts and circulation spaces, improvement of building systems and achieving high standards of energy efficiency in the building (aiming at a BREEAM certification). This complex renovation project was the perfect testbed for BIM4REN digital tools.
With the renovation works finalised and the shopping mall open to the public again, RIALTO was put to the test, as part of the post-construction maintenance and quality control process. The R2M team showcased how effective is RIALTO for defect management reporting on-site, during inspections and post-construction maintenance.
A snag list is an auditing report used in construction projects, including a list of all the detected faults and defects in construction items. This report allows the people involved in the construction, operation, and monitoring to locate defects easily to be able to fix them.
Using a Smartphone, tablet, or other AR device such as HoloLens, we walked through the shopping mall, quickly capturing and reporting maintenance issues, like the cracked tile observed in the image. A quick picture of the issue is automatically georeferenced, combined with a description of the fix that can be included typing and/or with an audio recording from the operator on-site.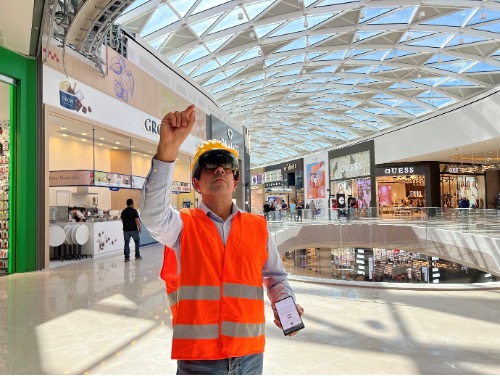 RIALTO is interoperable with commercial Construction Management Software (CMS) such as ZUTEC, allowing efficient project planning, assigning of rights and roles and documentation and reporting management.