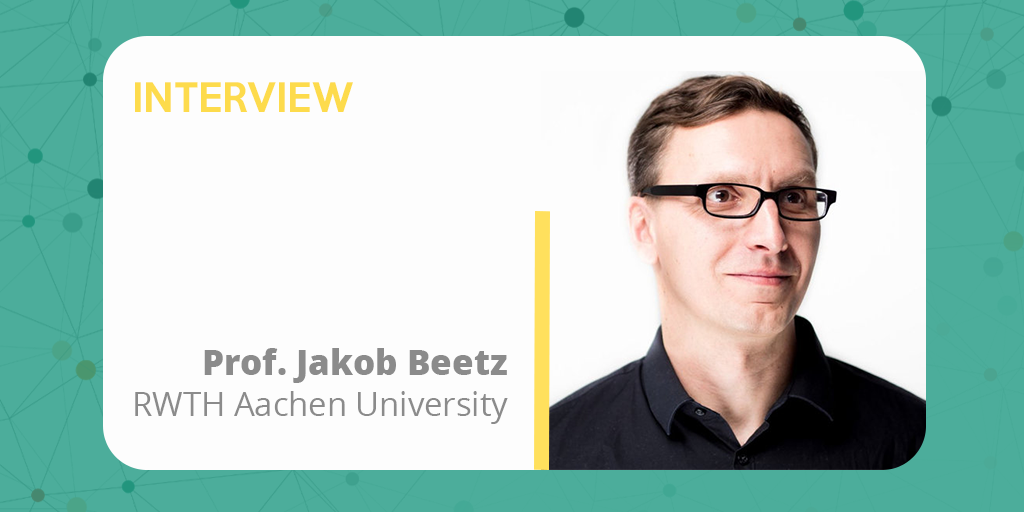 In a few words, who are you and what are your professional pursuits?
I am passionate about the great challenges of our generation regarding the overuse of resources and its impact on the planet. The built environment causes roughly a third of humankinds' footprint and influences how we live together as a society. Careful use of scarce resources requires optimized design and planning. To achieve this, experts from different domains must bring together knowledge, information and data. My contributions are focused on facilitating this exchange and collaboration. The interoperability between different forms of information is a key aspect.
I chair the Design Computation Group at the Department of Architecture of the RWTH Aachen University. This privileged position as a public servant allows me to advocate these issues, contribute to solutions from a neutral position for sustainable benefits. I particularly enjoy educating and supporting future engineers and researchers, the underrated work in standardization groups and making software tools available as Open Source free for everyone to use in practice or reuse in their products.
What is your take on BIM in renovation of residential buildings?
The overwhelming majority of processes, methods and tools in the current BIM domain are strongly focused on "green field" buildings. In new building projects from scratch we can define, design and execute many aspects accurately, precisely, and in a controlled environment. Information is generated in parallel to my own work by my peer stakeholders. When in doubt, clarification is just a phone call away. However, an estimated 75% of all future building tasks are in the existing building stock.
Information about residential buildings that have been constructed 25, 50, 100, 200 years ago is scarce, uncertain, imprecise and unreliable. Often no information exists at all. Building and renovating under these conditions means attempting to reconstruct the evolution of a building. What was the original intention? How was it executed? What materials did they use? How was the building transformed by its users since then? How does the building perform? How much damage is there?
Answers to these questions are key for efficient, sustainable renovation measures. Answers can only be given through careful observation, by incorporating knowledge and past best practices, experiences, and are based on assumptions. Introducing these uncertainties into the processes supported by digital tools is one of the big challenges in BIM4Ren.
What is your perception of BIM4REN?
BIM4Ren is an excellent opportunity to bring fundamental researchers, software vendors and SME practitioners together to clarify and identify the issues and challenges related to the renovation of existing buildings at high levels of detail. To develop and test a number of approaches from different angles and get feedback from the real-world in the LivingLab approach. To develop, test and share reusable processes, data structures and technological solutions. To aide important standardization efforts in BIM-related technical specifications to harbour the information needs in renovation scenarios.
How does the future of construction look like according to you?
I can picture a future process where initial assessments and measurements of existing buildings are made cooperatively and simultaneously by owners, residents, architects, energy consultants together. Available information is then superimposed on live feed video streams as Augmented Reality. Together, the construction value chain will be able to see which building component is from which time, how spaces have been used, what the status of the materials is and where piping and wiring is going through the construction. Taking advantage of this new flow of detailed information, different scenarios regarding insulation are displayed and simulated on-site and decided upon together. Upon completion sensors are installed and users receive feedback to the energy use on a daily basis with visualizations, games and incentives to save energy.