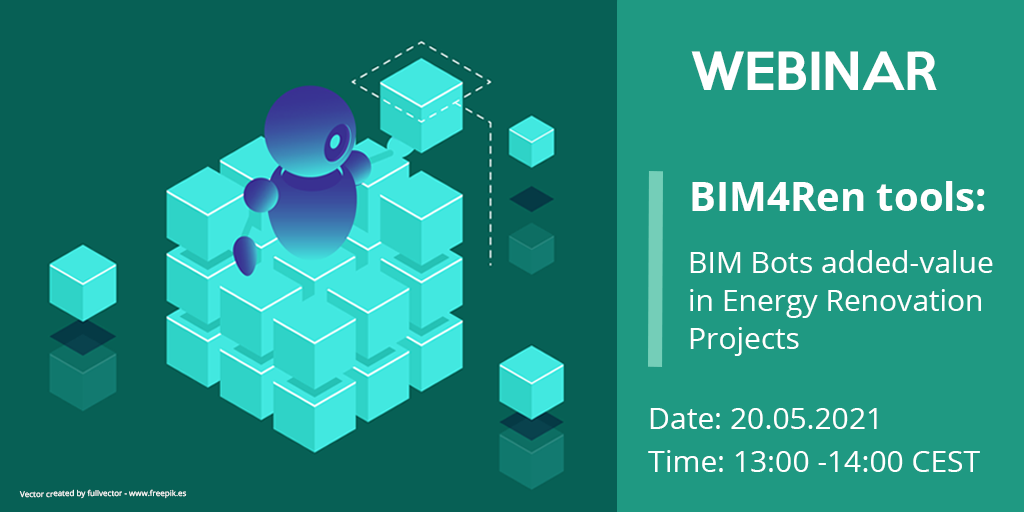 SAVE THE DATE!  
We are hosting our 4th webinar next May 20th!
Entitled " BIM bots added-value in Energy Renovation Projects", it's the opportunity to see a series of presentation and live demos dedicated to presenting tools and methods to enrich geometric BIM models, as well as to show how to optimize the use of BIM bots in energy renovation projects.
Ready? Join our partners NObatek/INEF4, TNO, CSTB & RWTH Aachen!
Come discover why BIM methods and tools are increasing their impact in the construction sector, to help improve the productivity and cooperation across its full value chain to achieve the EU energy targets for the European building stock.
Agenda:
Introduction: Enriching geometric BIM (IFC) models and analysing renovation scenarios for energy using BIM bots by

Michel Böhms (TNO, The Netherlands)

Transform & enrich the BIM model: the Lodlifter and the enrichment process with the catalogue by Bruno Fies (CSTB, France)

BIM bots & Microservices. Verification of the model: why validating? What are we checking? by Madumitha Senthilvel (RWTH Aachen University, Germany)

Translating: from BIM4Ren to IFC SPF translation by Jyrki Oraskari (RWTH Aachen University, Germany)
Maestro BOT: why and how to 'chain' BIM bots by Joost Adriaanse (TNO, the Netherlands)
Conclusions : Rich BIM eco-systems & BIM bots by Pierre Bourreau (NOBATEK/INEF4, France)

Q&A
When: Thursday, May 20th, 2024
Time: 13:00 – 14:00 CEST
Where: ONLINE! Registration is now OPEN HERE!